With over 58% of websites using the WordPress platform its safe to say that a great many of the sites you visit are using it. When I first discovered WordPress years ago I thought it was just for bloggers like me. I've since come to learn that some of the most amazing church websites are built using the WordPress platform and that the theme they are using is just a few clicks away. 
I go to tons of different church and ministry sites looking for inspiration and one of the tools that has helped me tremendously is a website that can analyze the church or ministry I'm looking at and tell me if they're using WordPress or not. Why is that important? Because if they are using WordPress then chances are I can get close to recreating what it is I love about the site I'm studying.
This tool doesn't stop there though. It can also detect the theme, where to buy that theme, and all the plugins that the site is using. This free tool is the WPThemeDetector site. 
Once you type in the URL you're looking for a display like the one below will come up. Here's the info for a site using the X. As you can see, it gives you some info about the theme itself.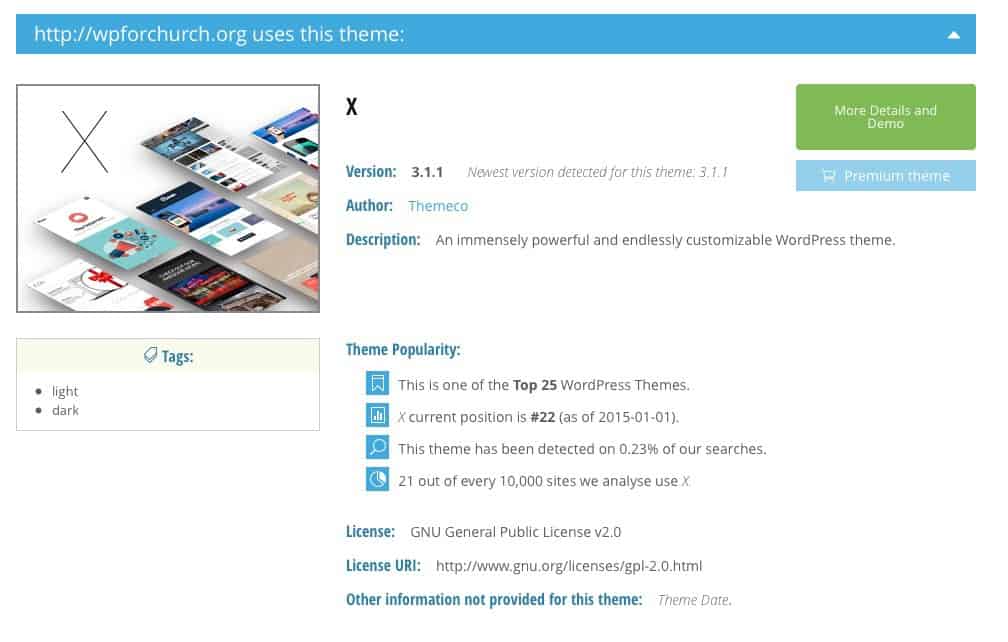 Once you scroll down a little bit, you will see the plugin information. Our site for example uses 9 different plugins.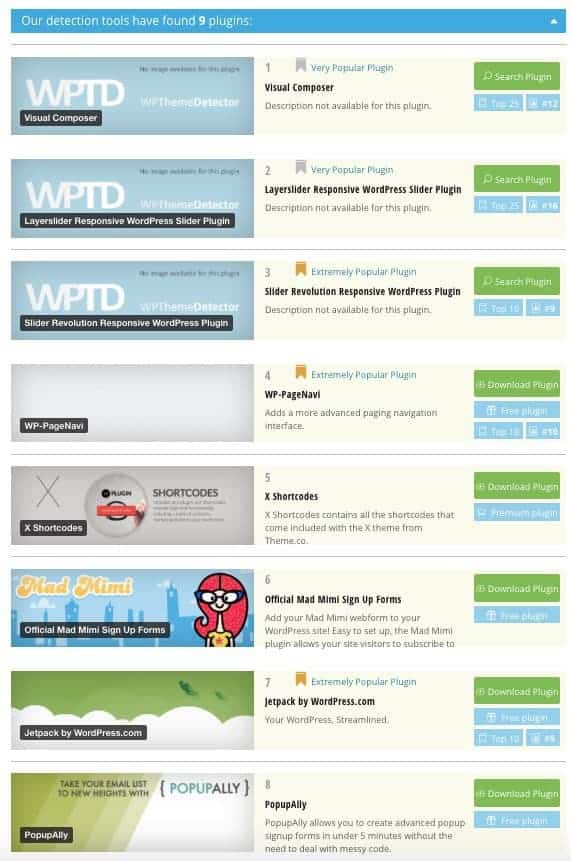 One of my favorite church websites is theoaksonline.org. I remember seeing a tweet that they had launched a new site and I was gawking over how beautiful and seamless it was. There were tons of different features that I loved, and I was even more ecstatic when I found out using WPThemeDetector that is was built using wordpress!
Now, this tool does have its limits. The Oaks is a crazy custom site, so the theme is built just for them by a company called Paradox, but when I saw it was done on WP I knew I could find something that would come close. Using WP ThemeDetector and a little 'search engine savvy' led me to Bridge, the theme that I use all the time now. This was actually how I discovered the plugin Series Engine that I now use for sermons and podcasting. WP Theme Detector has opened my eyes to tons of new tools!
If you are looking for some inspiration or how a few churches with awesome websites in mind, why don't you visit WPthemedetector.org to find out some deeper information on them and see some of the cogs that help to make your favorite sites tick.
Hey guys! I am a church leadership and creative guy living in the Atlanta area with my awesome wife and two kiddos. I've worked on staff with a number of churches as well as traveled full time as a conference speaker. Now, I work full time at The Reach Company helping ministries and businesses tell their story and make an impact online.
Our goal is to help church leaders and volunteers get the most out of their WordPress site. Join our mailing list to get all the new WordPress Tools & Tuts (and the occasional WordPress deal) right in your inbox!