Sermon Manager Pro is an Add-On plugin that extends the functionality and design of the free sermon manager plugin.
Sidenote: Sermon Manager is not a plugin I currently recommend using.
UPDATE AUG 2020: Hey guys, I've used Sermon Manager on dozens of sites. But it is not a plugin that I can continue recommending in its current state. After going through several developers and owners it has begun to feel more messy and buggy. I doubt it will stay this way forever, and I hope the current owners can bring it back up to snuff and create a cohesive experience for this sermon solution, but it's just not there right now. :/ Currently, I'd recommend you check out Series Engine or create a Custom Post Type while using Beaver Builder or Elementor to build the layouts. Cheers!
This is ONLY an overview of the new plugin. What that means is I'm not going to really dive into a lot of capabilities of Sermon Manager Pro.  aInstead this is meant to give a birds eye view of new features, a few neat updates that make SM Pro worth it to me, and a few 'hey you should do this' type things to help you avoid some of the issues I found.
PLEASE note that I'm making this review while Sermon Manager Pro is still in beta! I wanted you to have something to take a gander at by the launch. Even over the past week they have released a few fixes and updates that have addressed some concerns and questions I have. I'm sure by the time you read this my review may have been updated several times!
Another note is that in the video there are likely to be bugs that are still being addressed by their dev team. That's the point of beta versions after all! I've been assured that the kinks I've noticed are being worked on. If you notice any of your own, please be proactive in submitting them to their team. Creating a plugin as involved as Sermon Manager and the Pro add-on is intense. Sometimes you miss a few downed trees when you're looking at the whole forest. Grace abounds in church and in church plugin world!
Compatible with nearly every theme.
Page Builder Support. Has Beaver Builder, Elementor and Divi modules built in.
Work right out of the box. Minimal configuration to get up and running.
Multiple podcasts ability.
Good SEO & Schema markup built in.
Template designs for archives and single sermons with more on the way.
Modules for 'theme builders' like Elementor and Beaver Themer
Quick, responsive support (chat in the plugin).
Templates:
What sticks out to me the most in Pro is the templates capability. The Genesis template that is packaged with SM Pro doesn't add much design wise. Mostly it piques my curiosity and encourages me that the possibility for some really beautiful sermon layouts are in the works to be added. The template designs is still super basic presently, and not all that different from the regular Sermon Manager.
The reason I'm jumping into the early adopter pricing is because there is so much potential to go beyond creating a column based archive and dive into really eye catching and neat templates both from the Sermon Manager team and for some of you php gurus reading this.
Their website says you'll be able to install templates to get a 'big church look with one click.' I can see this being a hub for you to choose your look. As it stands my biggest "gripe" with Sermon Manager is that it looks like it's 2009, but I'm sure as the template library expands this will be remedied.
You see, even though it's still very basic looking now, it's about function. It's much easier to take something that works and make it pretty than it is to take something that is pretty and make it work. As a designer I commend Sermon Manager for focusing on solid function before diving into more templates. The last thing I wanted is for Sermon Manager Pro to be like the Themeforest of sermon plugins. 
Modules:
Guys! There's a flippin' Series Grid module. One of my biggest gripes with Beaver Builder has been the lack of a taxonomy grid module. 90% of that was me griping when I needed a Series Grid on a church's website! There is now a module that fixes that.
More than that, those modules are in BB, Elementor and Divi! Page builder users rejoice! This makes it easier than ever to make an appealing 'Latest Sermon' or 'Current Series' area.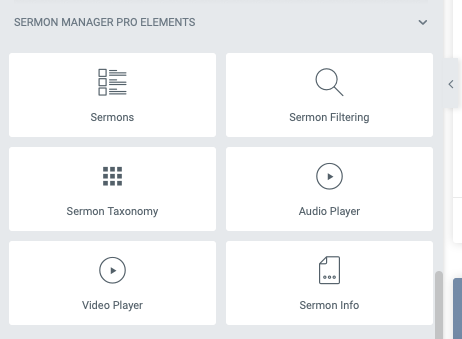 In addition to the Series Grid module (sermon taxonomy) there is a sermon grid, filter, audio player, video player, and sermon info.
Theme Builder Modules:
Sermon Manager Pro doesn't stop with the grid and filter At the moment these have only been built for Elementor's theme builder as that's the first plugin they integrated with. But, they have Beaver Themer modules on their roadmap. That means no more php snippets and short codes to be able to add Sermon Manager elements to the single sermon pages I build. *fingers crossed for soon and very soon!*
Multisite:
If you work on a multisite network either for a network of churches or if you host multiple church websites via multisite you'll be happy to know that it seems to play nice with multisite. I haven't run into any issues in my testing with it.
Multiple Podcasts:
Then newest beta adds the ability to create multiple podcasts. I love this! Consider that you might have a youth group that has its own podcast. Or traditional service/modern service model that has separate podcasts. Maybe your pastor or comms team has a weekly devotional? You can manage what sermons/media goes where this way by assigning a service type to your podcast and submitting it to iTunes. By establishing your Sunday Service as a Service Type and letting that be its own podcast you can expand your church's media offerings without having to worry about what media is "podcast worthy."
---
Now that I've hit some of the highpoint I want to hit my "wishlist." Seeing as how this is still the beta version I imagine I'll be changing this soon as they make updates and changes of their own.
My Wishlist
Better templates. As I mentioned, this is going to be a biggie. If you have suggestions of sermon pages and layouts you'd like to see in Sermon Manager drop them in the comments section!
Cleaner podcasting pages. The layout and terminology can be confusing. The way the links are laid out and communicated can be confusing as well.
Better descriptions in the plugin. It took me a while to figure out how to work the taxonomy/archive pages. A link to the article in their knowledebase and the shortcodes listed on the Page Setup tab would have been helpful. I thought it was just setting the page, but there is more to it.
Setting header/cover images for taxonomy/archive pages. That is actually one of the things I loved about Sermon Hub.
More control over colors. It definitely does a good job of pulling from your themes colors, but I like to have control over what colors things are. The option to inherit colors and then option to set other colors for everything would be helpful.
Tabbed views on single sermon pages. Like tabs to switch between audio/video.
A link to templates in the Display settings. It took me a while to find that I could do a lot in the template editing area. A link from the standard Display settings letting me know that I can edit my template displays 'here' would be helpful for new users.
Sermon Manager Pro Summary
On the whole my summary is 'yes, get this.' I'm excited about the modules that are being introduced for page builders, the possibility of some amazing templates being added and the ability to use this easier with theme builders.
Review Transparency & Ethics
These reviews & comparisons are my opinions based on my usage and testing. I like the freedom to provide honest reviews and be candid in my reviews. Though I do provide affiliate links for products I believe in, I have never been paid to write or record any reviews for this WP for Church blog.